Evil teaches us to livE –
This ananym comes to mind when I think of cleft Joaquin Phoenix
the fictional miserable life of Batman's Joker generates evil
the real "miserable life" of Phoenix generates great art about good and evil.
What comes to mind re the movie Joker is less relevant –
another  star vehicle for Phoenix
the biggest-grossing October launch ever, $90 million in first 2 days
a "scary movie" with tons of violence that's forced many theaters to hire cops to prevent an Aurora Theater copycat shooting.
Understandably, my own cleft lip has triggered an interest in following Phoenix since he was born with one as well. His  microform
cleft lip wasn't accompanied by a cleft palate. Mine was, as are a good many cleft lips.
I've blogged about Phoenix various times – like these, among others, here,  here and here.
My take on Phoenix in Joker.
There are internal problems with the movie. See Morganstern's film review below.
And there are external ones, hopefully unrealized, about the wisdom of studios producing, let alone releasing a movie in these hyper-troubled times.
Elaborating on this, Joker deals with the themes of mental illness and its effects, and its depiction of the Joker has been described as reminiscent of those who commit mass shootings in the U.S. as well as members of the online incel community. Several writers have  interpreted the film as a cautionary tale—society's ignorance of those who are less fortunate will create a person like the Joker.  Stephen Kent, writing for The Washington Examiner, argued that Arthur Fleck blends shared aspects of mass shooters.

 
The film has generated controversy over whether its sympathetic portrayal of a homicidal maniac could inspire real-world violence. Jim Geraghty of National Review wrote he was "worried that a certain segment of America's angry, paranoid, emotionally unstable young men will watch Joaquin Phoenix descending into madness and a desire to get back at society by hurting as many people as possible and exclaim, 'finally, somebody understands me!'" 
Setting aside these problems with the movie, I'd like to mention a couple of points.
Too many movies still exploit facial differences when creating villains. I've blogged linking evil with birth defects elsewhere, And also blogged linking evil with "clowns, unfortunately destroying the good, happy connotations they once had for children.
It's obvious that Phoenix' phenomenal acting chops grow in part from his personal struggles regarding his cleft and other childhood issues. Thank goodness he's channeled his emotions and experiences  in such a positive way.Before you check out reviews of cleft Joaquin Phoenix' talent then ("To Die For") and now, let me show you  a short video of Phoenix, still a sphinx, IMHO.
Review of 'Joker:' The Laugh's on Us.
"Joaquin Phoenix gives a piercingly intense performance in an otherwise grim film" by Joe Morgenstern in the Oct. 3, 2019  Wall Street Journal:
How can that be? Why should such a remarkable performance, so many spectacular images … and such vaulting pretensions to social commentary … amount to not much? The answer may lie in the movie's relentless manipulativeness.
Literal pain can't be transmitted from screen to audience, but anxiety can, and the production is a nonstop generator of anxiety, a poor substitute for dramatic intricacy. If you're feeling insufficiently anxious in your life, "Joker" could be just the ticket. If not, look elsewhere to be entertained.
For almost 80 years the Joker has dominated the pantheon of comic-book villainy—not just as Batman's nemesis, played most memorably on the big screen by Jack Nicholson, Heath Ledger and Jared Leto, but as an endlessly renewable repository of evil leavened by zestful trickery and diabolical humor.
Although stories of his origin have been spun before, this one declines to settle for facile explanations like facial disfigurement by acid. It sets Arthur down on his own—an antihero deprived of an adversary—in a Gotham City whose civic rot and physical blight conspire with his mental decay to transform him. (And connects him artfully to the Batman to come in the person of a young Bruce Wayne, played touchingly by Dante Pereira-Olson. )
Grievously unwell in the head, failing to flourish despite taking seven medications, eking out a living as a party clown, poor Arthur presents an irresistible target for brutes, and this is not a movie that flinches from brutality.
"I was put here to spread joy and laughter," he says; it's a cherished delusion that he got from his delusional mother, Penny ( Frances Conroy ).
Mr. Phoenix might have been put here to play Arthur. His portrayal is brilliant and all-encompassing: the compulsive, mirthless laugh that shrivels into a cackle, and may or may not be a physical affliction; the thin voice emanating from an emaciated chest; the haunted eyes that flicker without flashing; the lyrical gyrations— Marcel Marceau minus a coherent narrative—that precede Arthur's explosions into mad violence. …
Yet events leading up to this helpless victim's lashing out at his persecutors, and to his transformation from Arthur to Joker, feel coldly contrived, even as they promise to make sense of the chaos that surrounds us in what passes for real life.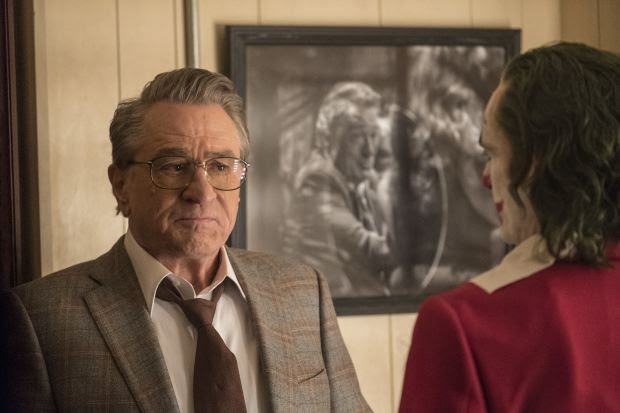 … [Q]uestions flow from the mass movement that Arthur creates without meaning to. It's a seductive concept. Once he starts stalking the streets in full Joker regalia, he becomes infamous as a kill-the-rich vigilante—a description that seems arbitrary and unearned—and the virus of his violence spreads to other aggrieved citizens who don masks of their own, coursing through Gotham in angry mobs.
A chase sequence set in a subway becomes a sight gag on a huge scale, as cops try to find the real Joker amid hundreds of Joker wannabes. The spectacle is reminiscent of the everyone-is-wearing-a-bowler-hat scene in the 1999 remake of "The Thomas Crown Affair," …
What do Joker's followers represent? The only answer seems to be nihilist grievance, which makes the concept as hollow as the movie that surrounds it.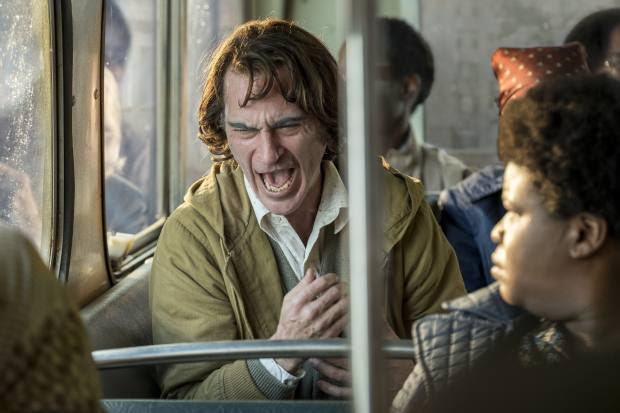 The most obvious question that "Joker" raises concerns gun violence. At a time when the nation seems helpless to stop mass shootings, do we need another movie, however fanciful, in which a lunatic shooter kills innocent people at random?
Of course not, but no one knows enough about causal links between violence on and off screen to say that such films shouldn't be made or seen.
A more manageable question is how much we need movies, however stylish and stunningly performed, that make us feel next to nothing. "Joker" is one of them, and the answer is not at all."
Review of 'To Die For.'
Critic Patrick's review:
To Die For is a dark comedy/drama from 1995, based on the novel of the same name by Joyce Maynard, which was itself based on the real life case of Pamela Smart. If you're either too young, or simply don't remember the name, Smart … became infamous for conspiring to kill her husband with her 15-year-old lover and three of his friends in suburban New Hampshire in 1990. She was convicted and, as of this writing, is still serving her life sentence.**
Maynard's book was loosely based on the Smart case; which Buck Henry has taken and smeared with a thick layer of satire for the screenplay and director Gus Van Sant serves up in mockumentary style. The result is an uneven movie that is never quite as funny or shocking as it wants to be. Although the following line, spoken by Joaquin Phoenix with just the right amount of reverence in his voice, is worth repeating… "Any time it rains, or when there's thunder and lightning, or when it snows, I have to jack off."
What To Die For does have is a radiant central performance by Nicole Kidman. Doing her best Marilyn Monroe sex-kitten voice, Kidman looks stunning as the ruthlessly ambitious Suzanne Stone. Never mind that she's just a local weather girl married to a man whose father owns a family restaurant. Suzanne dreams of becoming the next Barbara Walters, and she'll stop at nothing to get what she wants.
In a way, Suzanne is ahead of her time. Today she would be perfect for one of those Real Housewives reality shows. After all she lives by the following words… "You're not anybody in America unless you're on TV. On TV is where we learn about who we really are. Because what's the point of doing anything worthwhile if nobody's watching? And if people are watching, it makes you a better person."
__
** The real story of Pamela Smart:
Smart took a job as a media coordinator at Winnacunnet High School in Hampton, New Hampshire. She met student William Flynn at "Project Self-Esteem," a local drug awareness program at the high school, where both were volunteers. They bonded over their mutual interest in heavy metal music. Flynn was a sophomore.
Prosecutor Nicolosi claimed that Smart seduced Flynn to get him to murder her husband, so that she could avoid an expensive divorce and benefit from a $140,000 life insurance policy.
In her testimony, Smart acknowledged that she had an affair with the teenager,… Smart came home from a meeting at work to find her place ransacked and her husband murdered. Police say the crime scene looked like a disrupted burglary.
Smart was convicted of seducing 15-year-old Flynn and threatening to stop having sex with him unless he killed her husband. Flynn did her bidding with the help of three friends.
To learn about CLEFT HEART: Chasing Normal, click the Amazon or Barnes & Noble buttons in the margins. Or click the image of the book cover. My coming-of-age memoir has intertwining love stories, mystery, tragedy, and triumph.