---
I've followed a celeb who graduated from my high school for some years now. James Franco's been impressive. He was  nominated for an Oscar in 2011, and has studied and shown promise as a filmmaker, writer, and painter.**
These fields, except for acting, have been fields I've explored. And Franco's been involved with three universities I've attended – UCLA, Yale, and Columbia.  Needless to say, he's intrigued me.
But when he got into trouble regarding sexual misconduct, my interest turned to "will the crim justice system let him skate like so many celebs?"
A little background on the allegations.
According to Wiki, "In 2014, a 17-year-old girl posted screenshots of alleged messages between her and Franco on Instagram. The messages showed that Franco, then aged 35, tried to meet her in a hotel room after she told him she was 17. He sent multiple pictures of himself to prove his real identity.
Franco admitted on Live! With Kelly and Michael that he had written the messages.  His actions were legal since the age of consent in New York is 17, yet he was the subject of media backlash because of the wide age gap. He initially responded to the scandal by tweeting, "I HOPE PARENTS KEEP THEIR TEENS AWAY FROM ME. Thank you." He later stated he was "embarrassed" and that "I learned my lesson."
At the 2018 Golden Globe Awards, Franco wore a Time's Up pin in solidarity with the Me Too movement, to protest sexual harassment against women.  His pin drew criticism on social media from actress Ally Sheedy, who hinted she had quit acting after working with Franco on a play.
A former girlfriend, Violet Paley, also alleged that he once forced her to give him oral sex in a car while they were dating.
On January 9, 2018, The New York Times, citing the allegations, canceled a planned event with Franco.
On January 10, Franco said on The Late Show with Stephen Colbert that the accusations made against him on Twitter were "not accurate."
On January 11, 2018, the Los Angeles Times reported that five women were accusing Franco of inappropriate or sexually exploitative behavior during the period when Franco was serving as their acting teacher or mentor.
One former student stated that Franco "would always make everybody think there were possible roles on the table if we were to perform sexual acts or take off our shirts" in his projects. …
On October 3, 2019, two former students of Franco's now-closed film and acting school, Studio 4, filed a lawsuit against him and his partners. According to The New York Times, the complaint alleged that the program "was little more than a scheme to provide him and his male collaborators with a pool of young female performers that they could take advantage of."
The case claimed that pupils were subjected to "sexually exploitative auditions and film shoots" and had to sign away their rights to the recordings.
The litigants sought unspecified monetary damages as well as the return or destruction of any questionable material. Franco has denied the plaintiffs' claims through his attorney."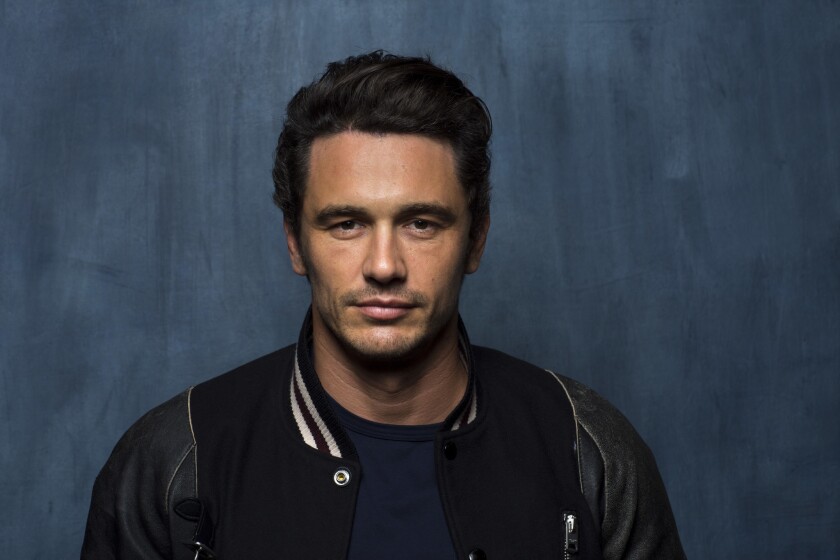 "But as he stood on the [Golden Globes] ballroom stage, some were paying more attention to the Time's Up pin on his lapel than the gold statue he picked up for his turn in "The Disaster Artist."
It "was like a slap in my face," said Sarah Tither-Kaplan, a former acting student at the film school Franco founded who went on to appear in several of his productions.
Tither-Kaplan is one of five women who, in interviews with The LA Times, accused Franco, 39, of behavior they found to be inappropriate or sexually exploitative. Four were his students, and another said he was her mentor.
In 2016, Franco made a docuseries based on his Sex Scenes class at Studio 4 that he posted on his Facebook page. The videos have since been taken down, but one is still available on Vimeo. Tither-Kaplan, who was a student in the class, told NPR she thought it would teach her how to "maneuver in sex scenes professionally as an actor," but it "did not do that at all."
According to Tither-Kaplan, the class did not explain industry standards such as "nudity riders, the detail required in them, the right to counsel with the director about nude scenes, the custom to choreograph nude scenes ahead of time to negotiate them with the cast and the director — I knew none of that throughout that class."
The revealed  settlement is something like a plea bargain.
The two sides first reached a deal to settle the class-action suit in February, but it took several months to resolve details, and the dollar amount was not previously disclosed.
Actresses and ex-students Sarah Tither-Kaplan and Toni Gaal, who first filed the lawsuit in October 2019 that was joined by many others, alleged that at his now-defunct school, Studio 4, Franco pushed his students into performing in increasingly explicit sex scenes on camera in an "orgy type setting" that went far beyond what is normally considered acceptable on Hollywood film sets.
The two sides also agreed to release a joint statement.
"While Defendants continue to deny the allegations in the Complaint, they acknowledge that Plaintiffs have raised important issues; and all parties strongly believe that now is a critical time to focus on addressing the mistreatment of women in Hollywood," the statement said. "All agree on the need to make sure that no one in the entertainment industry—regardless of sex, race, religion, disability, ethnicity, background, gender or sexual orientation—faces discrimination, harassment or prejudice of any kind."
It alleged that Franco "sought to create a pipeline of young women who were subjected to his personal and professional sexual exploitation in the name of education," and that students were led to believe roles in Franco's films would be available to those who went along.
Franco's production company Rabbit Bandini and his partners including Vince Jolivette and Jay Davis were also named as defendants.
The settlement includes "non-economic" terms that have not been made public.
It has been submitted to a Los Angeles judge for approval."
Your thoughts regarding the settlement?
My sense is that Franco and others are going to get away easy in this case, though admittedly they've been sanctioned by a loss of face and reputation.
What's your sense?
__
**A creative force in Hollywood with a reputation for being indefatigable, Franco has acted in several notable films and TV shows over his 20-year career. They include "Freaks and Geeks," "Pineapple Express" and "127 Hours," which netted him an Oscar nomination for lead actor. He's directed episodes of HBO's "The Deuce" — on which he currently stars in two leading roles, playing twins — and served as a producer on films and TV shows including the "The Interview" and the Hulu series "11.22.63."
To learn about CLEFT HEART: Chasing Normal, click the Amazon or Barnes & Noble buttons in the margins. Or click the image of the book cover. My coming-of-age memoir has intertwining love stories, mystery, tragedy, and triumph.