I've been thinking about Senator John McCain—survivor, hero, villain, family man? In mourning the passing of a one-of-a-kind U.S. senator, I've concluded he was a complex character, defying pigeon holes.
McCain—more than a survivor, hero, villain, family man.
I get the impression that McCain was inventing himself as he went along.
—1st. A rebel and later a poor student at Annapolis, frustrated that his family pigeon holed him as a Navy Man  given that his dad and grandfather were Navy admirals.
—2nd.A POW at the Hanoi Hilton who struggled, as we all would, with how to deal with physical pain (1st from war injuries, 2nd from torture).
He heroically refused special treatment 'cuz of his lineage, but then signed a paper ('treasonous' to some Monday Morn QB eyes) his captors     "forced" him to sign.
—3rd. A PTSD'd husband and father who left his wife and three kids who'd patiently waited, as he had, for five long years to be reunited.
He travelled the world (often with Joe Biden), learned about international relations and the how the US Congress works. As part of this
mid-life reinvention, he met Cindy, started a second family, and entered politics.
—4th. A family man and Senate icon who managed to be progressive on some fronts while conservative on many others.
—5th. A candidate for the US Presidency who shot himself in the foot by inviting an unknown, loose cannon (Sarah Palin) onto his ticket.
—6th. A believer in American exceptionalism who encouraged the US to live up to its ideals…and who cast tough votes (e.g., Iraq war, Obamacare) to realize that dream.
I most respect the family man part of John McCain. He blended two generations of kids, adopted three of  them, and helped one through the ordeal of cleft-lip-and-palate surgeries. This is because I know the challenges of being a father and dealing with clefts and feeling marginalized.
At one point McCain considered endorsing my book Cleft Heart: Chasing Normal, but told me he just couldn't find the time to read it. I'd wanted a Republican to balance out the endorsement from Democrat John Kerry.
RIP Senator McCain. You've earned it.
Here's a photo history of McCain's family
John McCain, wife Cindy and all seven McCain children entered the public eye at the 2008 Republican National Convention in Minnesota.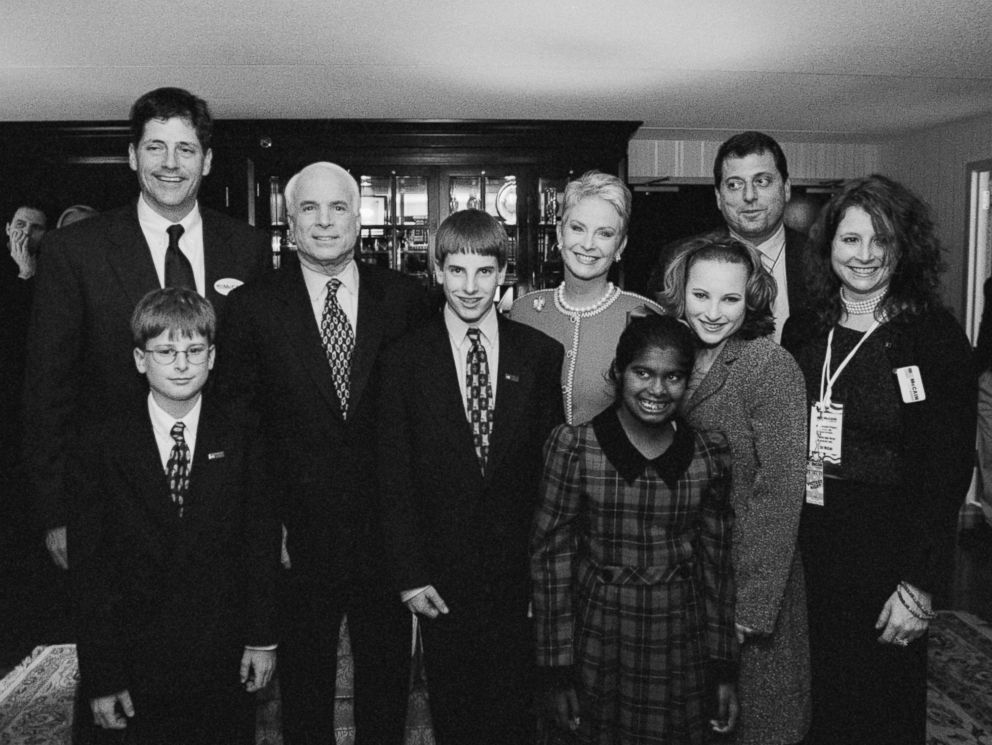 (MORE: John McCain, Arizona senator and Vietnam war hero, dies at 81)
Navigating through the McCain family album might require a road map.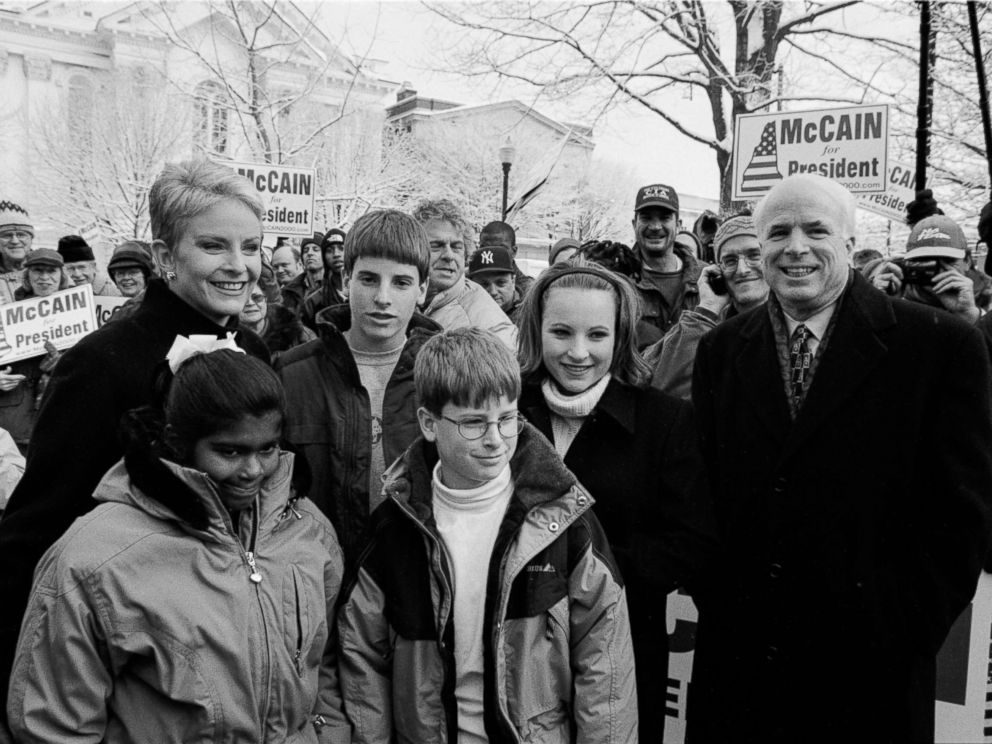 McCain got married in 1965 to his first wife Carol Shepp, with whom he raised three children. He adopted Carol's two sons from a previous marriage, Douglas McCain, born in 1959, and Andrew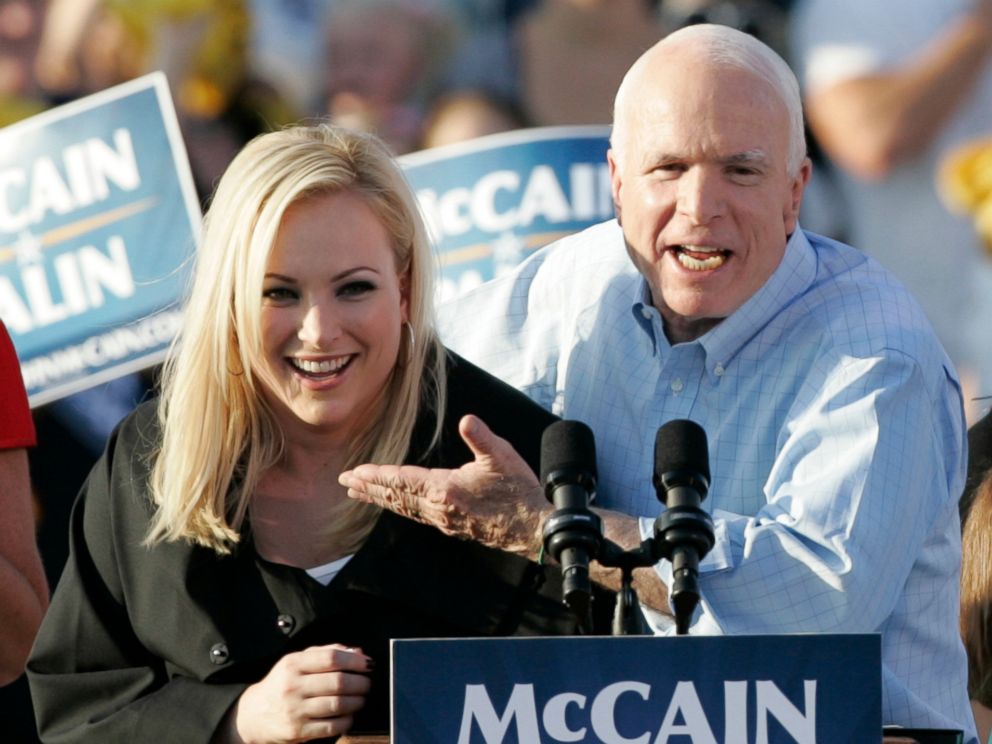 (MORE: Sen. John McCain's death draws outpouring of condolences from across political spectrum)
John and Carol McCain had eldest daughter Sidney, who is now 51 and worked in the music business in Toronto while her father ran his 2008 campaign. She was born in 1966, one year before her father's plane was shot down over Vietnam.
After John and Carol McCain divorced in 1980 and John married second wife Cindy, they had three children, Meghan, Jack and Jimmy. They adopted another child, Bridget, from Bangladesh."
What do you think of McCain? I'm curious to know.
One of my prior blogs dealing with McCain:
Cleft lip daughter and Black daughter-in-law: McCain's OK.
I've had a love-hate relationship with Senator John McCain over the years—not unlike the relationship Trump has had with the senator. We've both disagreed with some of McCain's conservative politics, but for vastly different reasons. Interestingly enough, tho, Trump endorsed McCain this week, knowing that he (Trump) had had a perfectly horrible week and that McCain faces a tough re-election battle in Arizona. For details re the endorsement, see the end of this blog post.
Cleft lip daughter, Black daughter-in-law.
I began taking a second look at McCain after his wife, Cindy, and he adopted a girl with a cleft lip and palate from Bangladesh years ago.  That daughter Bridget is fully grown now and is a great sister to McCain's biological Meghan. The two sisters prove that the McCain family tent is large.
In June of 2013, I noticed something else about McCain's family. The tent was expanding further with the wedding of his son Jack McCain to Renee Swift in San Francisco. As a SF Bay Area resident, I was aware of some of the details which the McCains had chosen not to ballyhoo to gain political points: namely that the marriage was interracial. Swift, 29, a Bay area native, is a captain in the USAF reserve and a black woman. The couple met in Guam.
The fun thing about the nuptials were the iconic Bay Area sites involved. The wedding ceremony was held at San Francisco's Grace Cathedral, with a reception following at the Italianate part of California Academy of Sciences. The rehearsal dinner took place in the Tonga Room of the Fairmont Hotel. (Another former presidential candidate— Massachusetts Gov. Mitt Romney—attended.
For  these reasons, I sought out the "Hanoi Hilton" on a recent visit to Viet Nam. I visited the famous prison where McCain was held prisoner during the Viet Nam war. Despite some of Trump's earlier comments regarding "POW" McCain, the Senator certainly paid his dues during that awful war. That's more than we can say for Trump.
Black-White dustup over Old Navy ad.
McCain's son Jack appears to be following the example of race-blindness set by his father. A May 2016 Old Navy store ad featuring an interracial couple (black female/white male) and their child elicited a negative backlash from some people on social media. Jack McCain entered the fray by tweeting his reaction. See CNN story below.
The young McCains  couple went to an Old Navy store to make a purchase to further demonstrate their support of the retail giant.
+++
(CNN)Arizona Republican Sen. John McCain's son, Jack, is pushing back against critics of an Old Navy ad who took issue with the spot posted Friday that features an interracial couple.
View image on Twitter
Jack McCain who is married to Air Force Officer Renee Swift McCain, a black woman, joined a bunch of Twitter users by posting pictures of their family with the #LoveWins and slamming critics of the ad.
+++
McCain Is Conservative But Not Racist.
Overall, Black writer CherylJ said it best. She wrote here not long ago:
"Say what you will about the political views of U.S. Senator John McCain, (Arizona), and the 2008 Republican candidate for U.S. President who ran against Barack Obama, but he is not racist. The evidence for this can be demonstrated through a few of his actions.
First, in 1991, his wife, Cindy and he adopted a daughter from a Bangladesh orphanage when they were on a mission in that country. Born with a cleft lip, the McCains' decided to adopt Bridget so they could bring her back to the U.S. to receive needed medical attention.
Second, in June 2013, their son, Jack McCain, a lieutenant in the Air Force, married Renee Swift, an Air Force reserve captain. What is notable about this marriage is that Ms. Swift is African American and little public fanfare was made over this fact. The wedding was a lavish affair and the public learned that the new Mrs. McCain was African American on the day of the event. Photos taken from the wedding show a beaming McCain family.
I applaud Senator McCain for treating his son's marriage as a private family affair and not attempting to politically exploit in any way the racial background of his new daughter-in-law. It demonstrates a certain level of class which is sadly lacking in the current U.S. political climate."
Trump endorses McCain.
"Washington (CNN)Donald Trump endorsed House Speaker Paul Ryan and Arizona Sen. John McCain on Friday, moving to mend an intra-party rift that has put the Republican presidential nominee at odds with its highest-ranking elected official.
Trump's endorsements came at a rally in Green Bay, Wisconsin.
"We will have disagreements, but we will disagree as friends and never stop working together toward victory. And very importantly, toward real change," Trump said, reading off a prepared statement. …
Trump earlier in the week had declined to endorse Ryan and McCain, as well as New Hampshire Sen. Kelly Ayotte.
… "I hold in the highest esteem Sen. John McCain for his service to our country in uniform and in public office, and I fully support and endorse his re-election," said Trump. . . "
To learn about CLEFT HEART: Chasing Normal, click the Amazon or Barnes & Noble buttons in the margins. Or click the image of the book cover. My coming-of-age memoir has intertwining love stories, mystery, tragedy, and triumph.